Duo with Rob Elfrink, guitar

Izaline started playing Brazilian songs with good friend and guitar-player Rob Elfrink.
Elfrink is specialized in playing duo with singers, using a unique playing technique, based on the one used by the American guitarist Tuck Andress (of 'Tuck & Patty').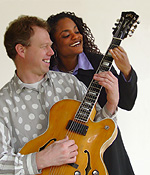 Elfrink plays a specially adapted 7-stringed Guild-guitar. He also composes and was the bandleader and sole accompaniment for the 4 singers of the formation 'FARIA' with which he toured Dutch theaters.