Diaspora.com 14-07-'08 • Richard Jasiutowicz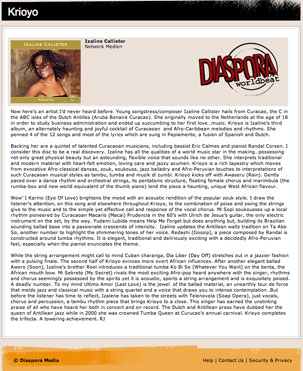 Izaline Calister

Now here's an artist I'd never heard before. Young songstress/composer Izaline Calister hails from Curaçao, the C in the ABC isles of the Dutch Antilles (Aruba Bonaire Curaçao). She originally moved to the Netherlands at the age of 18 in order to study business administration and ended up succumbing to her first love…music. Krioyo is Izaline's third album, an alternately haunting and joyful cocktail of Curacaoan and Afro-Caribbean melodies and rhythms. She penned 4 of the 12 songs and most of the lyrics which are sung in Papiamento, a fusion of Spanish and Dutch.

Backing her are a quintet of talented Curaçaoan musicians, including bassist Eric Calmes and pianist Randal Corsen. I consider this disc to be a real discovery. Izaline has all the qualities of a world music star in the making… possessing not only great physical beauty but an astounding, flexible voice that sounds like no other. She interprets traditional and modern material with heart-felt emotion, loving care and jazzy acumen. Krioyo is a rich tapestry which moves from evocative Afro-classical danzas, zouk, soukouss, jazz balladry and Afro-Peruvian touches to interpretations of such Curacaoan musical styles as tambu, tumba and muzik di zumbi. Krioyo kicks off with Awaseru (Rain). Gently paced over a danza rhythm and orchestral strings, its pentatonic structure, floating female chorus and marimbula (the rumba-box and new world equivalent of the thumb piano) lend the piece a haunting, unique West African flavour.

Wow' I Kariño (Eye Of Love) brightens the mood with an acoustic rendition of the popular zouk style. I draw the listener's attention, on this song and elsewhere throughout Krioyo, to the combination of poise and swing the strings give to the music and to the simple yet effective call and response of the vocal chorus. Mi Sopi soukousses up a local rhythm pioneered by Curacaoan Macario (Macai) Prudencia in the 60's with Ulrich de Jesus's guitar, the only electric instrument on the set, by the way. Yudami Lubida means Help Me Forget but does anything but, building its Brazilian sounding ballad base into a passionate crescendo of intensity. Izaline updates the Antillean waltz tradition on Ta Abo So, another number to highlight the shimmering tones of her voice. Redashi (Gossip), a piece composed by Randal is constructed around tumba rhythms. It is elegant, traditional and deliriously exciting with a decidedly Afro-Peruvian feel, especially when the pianist enunciates the theme.

While the string arrangement might call to mind Cuban charanga, Dia Liber (Day Off) stretches out in a jazzier fashion with a pulsing finale. The second half of Krioyo evinces more overt African influences. After another elegant ballad Aworo (Soon), Izaline's brother Roel introduces a traditional tumba Ko Bi Se (Whatever You Want) on the benta, the African mouth bow. Mi Sekreto (My Secret) rivals the most exciting Afro-pop heard anywhere with the singer, rhythms and chorus seemingly possessed by the spirits yet it is acoustic, sports a string arrangement and is exquisitely poised. A deadly number. To my mind Ultimo Amor (Last Love) is the jewel of the ballad material, an unearthly tour de force that melds jazz and classical music with a string quartet and a voice that draws you to intense contemplation. But before the listener has time to reflect, Izaline has taken to the streets with Telenovela (Soap Opera), just vocals, chorus and percussion, a tambu rhythm piece that brings Krioyo to a close. This singer has earned the unstinting praise of all who have heard her both in concert and on record. The Dutch and Antillean press have dubbed her the queen of Antillean jazz while in 2000 she was crowned Tumba Queen at Curucao's annual carnival. Krioyo completes the trifecta. A towering achievement.