---
01-12-'13 Singing for King and Queen!

Watch Izaline singing 'De Lucht Zit Nog Vol Dagen' at the Koninkrijksconcert in Circustheater, Scheveningen.
Entire concert through 'Uitzending Gemist'.

In the picture: HRH King Willem-Alexander and HRH Queen Maxima amidst the entire cast, with The Ashton Bros, André Kuipers, Brigitte Kaandorp, Huub Stapel, Guus Meeuwis, Caro Emerald, Izaline Calister (dressed in blue!), Paul van Vliet, Jeroen van der Boom and many more.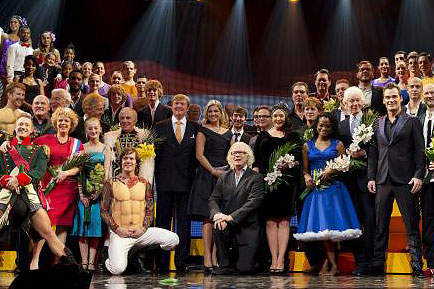 © Nationaal Comité 200 jaar Koninkrijk

200 years Kingdom of the Netherlands Anniversary Concert

27-11-'13 200 years ago the Netherlands regained their independence from France. The return of our prince in 1813 led to his coronation, based on a new constitution. Two centuries later we are a democratic nation, which we commemorate starting on Saturday, November 30.

The full celebration consists of six national events, divided over the next two years. On November 30, 2013 Izaline Calister performed together with the Metropole Orchestra at the official opening concert. This show took place at Circus theatre Scheveningen with the royal family in attendance.

The show was broadcast live on television, see it now on 'Uitzending Gemist'.

For more information: 200 jaar koninkrijk.
---
Izaline and Denise Jannah

02-12-'13 Izaline performs at 'Nobody For Sale', the closing night for the remembrance of 150 years end of slavery on 2 December '13.

Also performing are MC Fit, I Am Aisha, Denise Jannah, Jayh, Jörgen Raymann, Michael Bryan, Hadewych Minis and MC Brainpower! The show is live braodcasted through Radio6 and FunX, starting 21:00.
---
Interview 'Dagblad Van Het Noorden'

21-11-'13 An extended interview in regional press with a beautifull picture by Pepijn van den Broeke.
Click HERE.


---
Tambú-rerun in Dutch theatres

30-09-'13 This fall, lady Izaline sings the tambú again with the reprise of 'Tambú, A Freedom Song'.

The theatre-show travelled the isles of Curaçao and Schiermonnikoog (Oerol-festival) before in 2011 and 2012 and is now staged for the Dutch theatres. It is a production of the 'Volksoperahuis', featuring next to Izaline, 'Ompi Tio' (Raymond Justiana) and Konki Halmeyer, both from Curaçao.

Check the schedule for dates and venues.
More info (complete line-up, production, etc.) on het.volksoperahuis.nl (Dutch).
---
200 years Kingdom of the Netherlands

10-09-'13 This year, 2013, the Kingdom of the Netherlands exists 200 year. All residents are invited to celebrate this birthday.

Most of the festivities are planned on 30 November, the day Willem I set foot ashore in Scheveningen, 200 years ago. As part of the celebrations, Izaline performs that night with the Metropole Orchestra in the Circus Theater in Scheveningen.

Izaline is appointed member of the board, committed to the organization of the festivities. She is specially concerned to involve the Caribbean part of the Kingdom in this celebration.

More info in Papiamentu on 200jaarkoninkrijk.nl/papiamentu, 200jaarkoninkrijk.nl (Dutch), or 200jaarkoninkrijk.nl/english (English).
---
Kandela kandela!!

26-08-'13 After being in involved in several theatre productions this summer, Izaline is preparing a series of concerts with the complete line-up of her own band. She is very happy to play the music of her latest release 'Kandela' again.

Check out venues and dates here.
---
Great reception for 'Geen Liefde Zonder Vrijheid'

23-06-'13 The first series of Izaline's new theatershow on 'De Parade' got great reviews.

"…Mooi in opbouw, sterk qua zang en muzikaal werkelijk subliem…"
- Cultuurpodium

"…Izaline Calister is als Nena het zonnige middelpunt van de voorstelling: innemend, uitdagend en uitstekend zingend.…"
- Theaterkrant

"…De rol (…) is Calister op het lijf geschreven en ze acteert met hetzelfde gemak waarmee ze zingt…"
- Amigoe

An interview with Izaline in NRC Handelsblad (Dutch).
From Marie-Jose Eldering we recieved a few nice pictures of the show in Rotterdam.
Pictures of the show in Vondelpark, Sunday 30 June.
---
Press-appearances

19-12-'12 Check out these reviews and interviews since the release of Kandela in the Dutch press:

"…in al zijn subtiliteit een machtig statement…"
Jaïr Chong
19-12-2012 | Volkskrant

"…Wie voorlopig even geen geld heeft voor een tropisch reisje naar de warme zon in Curaçao doet er goed aan om deze cd aan te schaffen…"
Chantal
12-11-2012 | MusicFromNL

"…de zangeres is 'on fire' en dat toont ze ook tijdens het concert op het Octagonplein…"
Izaline Calister kan ook sexy zijn
- Recensie optreden Curaçao
05-11-2012 | Amigoe

"…razend knap dat salsa, bolero, bossa en meer Latijnse stijlen samensmelten in een eigen geluid, die vertrouwde soulvolle klank van Calister op haar best…"
Kees Smallegange
11-2012 | OOR

"…ik krijg er geen genoeg van! De energie spat er vanaf…"
Jolanda Soolsma
11-2012 | LatinNet

"…je hebt nooit te veel Latijns Amerikaans in huis, zeker niet van deze aangename Carïbisch-Antiliaanse…"
Hessel Fluitman
22-10-2012 | Jazzflits

---
Kiss me here!!

16-05-'13 Clip 'Damelo Aqui' from cd 'Kandela'. Enjoy!



---
Lalala, the clip came through

19-01-'11 The beautiful beach of Curaçao is the scenery for this family-clip of Lalala. Enjoy!



---
Clip 'Mi Pais'

25-10-'09 Izaline's first videoclip just has been released. The song is called 'Mi Pais' (My Country) and tells about Izaline's love for her sometimes hampered island. It is a track of her latest cd-release, 'Speransa'.

The clip is directed by Gabri Christa and the camera is handled by Dolph van Stapele of Fisheye Media Productions. Izaline would like to thank the Curaçao Tourism Board for making the filming of the clip possible.

To sing along, click for Lyrics and Translation ».



Recieve our mailing?

If you like to get updated about Izaline, her gigs and releases, please use this form to send us your mail-address. A mailing is being issued every once in a while with recent news and pictures.


---
Izaline on iTunes!

Three recent cd's of Izaline are now made available through iTunes. They are Speransa ('09), Kanta Héléle ('06) and Krioyo ('04). Check it out! ».



---
•
MORE NEWS »