---
A Night at the Club

22-01-'15 These months, Izaline tours with 'New York Round Midnight', a concertseries with the music of the famous Broadway-nightclubs in the late fifties and early sixties.

A ten-piece band is accompanying her on this trip to the glorydays of swing and bebop. Sitting in in the band are Peter Beets (piano), Ben van den Dungen (tenor saxophone) and singer Paul van Kessel.

The pieces of Miles Davis, Dave Brubeck, Count Basie, Oscar Peterson, Art Blakey and others are introduced by jazz-reporter Koen Schouten.

The tour visits theaters and venues in The Netherlands. Check schedule.
---
On the Parade without Leoni Jansen

25-07-'14 Because of a very unhappy event Leoni had to cancel her performances of 'Barricade' on De Parade in Utrecht. Izaline and musicians Phaedra Quant and Eric Rutjes missed her a lot during the shows in Utrecht. From this place we wish Leoni warmth, love and strength and we hope to see her back on De Parade in Amsterdam in August.
Photo: Jose Eldering
Info and tickets on www.deparade.nl.
---
Singing for King and Queen!

01-12-'13 Watch Izaline singing 'De Lucht Zit Nog Vol Dagen' at the Koninkrijksconcert (30-11-2013) in Circustheater, Scheveningen.
Entire concert through 'Uitzending Gemist'.

In the picture: HRH King Willem-Alexander and HRH Queen Maxima amidst the entire cast, with The Ashton Bros, André Kuipers, Brigitte Kaandorp, Huub Stapel, Guus Meeuwis, Caro Emerald, Izaline Calister (dressed in blue!), Paul van Vliet, Jeroen van der Boom and many more.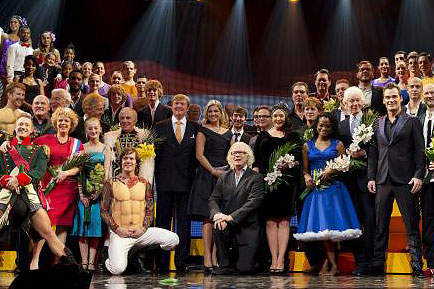 © Nationaal Comité 200 jaar Koninkrijk

200 years Kingdom of the Netherlands Anniversary Concert

27-11-'13 200 years ago the Netherlands regained their independence from France. The return of our prince in 1813 led to his coronation, based on a new constitution. Two centuries later we are a democratic nation, which we commemorate starting on Saturday, November 30.

The full celebration consists of six national events, divided over the next two years. On November 30, 2013 Izaline Calister performed together with the Metropole Orchestra at the official opening concert. This show took place at Circus theatre Scheveningen with the royal family in attendance.

The show was broadcast live on television, see it now on 'Uitzending Gemist'.

For more information: 200 jaar koninkrijk.
---
Interview 'Dagblad Van Het Noorden'

21-11-'13 An extended interview in regional press with a beautifull picture by Pepijn van den Broeke.
Click HERE.

---
200 years Kingdom of the Netherlands

10-09-'13 This year, 2013, the Kingdom of the Netherlands exists 200 year. All residents are invited to celebrate this birthday.

Most of the festivities are planned on 30 November, the day Willem I set foot ashore in Scheveningen, 200 years ago. As part of the celebrations, Izaline performs that night with the Metropole Orchestra in the Circus Theater in Scheveningen.

Izaline is appointed member of the board, committed to the organization of the festivities. She is specially concerned to involve the Caribbean part of the Kingdom in this celebration.

More info in Papiamentu on 200jaarkoninkrijk.nl/papiamentu, 200jaarkoninkrijk.nl (Dutch), or 200jaarkoninkrijk.nl/english (English).
---
Kiss me here!!

16-05-'13 Clip 'Damelo Aqui' from cd 'Kandela'. Enjoy!



---
Lalala, the clip came through

19-01-'11 The beautiful beach of Curaçao is the scenery for this family-clip of Lalala. Enjoy!



---
Clip 'Mi Pais'

25-10-'09 Izaline's first videoclip just has been released. The song is called 'Mi Pais' (My Country) and tells about Izaline's love for her sometimes hampered island. It is a track of her latest cd-release, 'Speransa'.

The clip is directed by Gabri Christa and the camera is handled by Dolph van Stapele of Fisheye Media Productions. Izaline would like to thank the Curaçao Tourism Board for making the filming of the clip possible.

To sing along, click for Lyrics and Translation ».



---
Izaline on iTunes!

Three recent cd's of Izaline are now made available through iTunes. They are Speransa ('09), Kanta Héléle ('06) and Krioyo ('04). Check it out! ».



---
•
MORE NEWS »