---
Bringing home 'Mosa Nena and Buchi Fil'

19-05-'16 Izaline just got back from Curaçao presenting 'The legend of Buchi Fil and Mosa Nena'. This bilingual theatre-show was staged in The Netherlands and Surinam before. All six shows in the Curaçao Hotel 'Renaissance' sold out. Find a review (in Dutch) here.
An interview with Izaline on Curaçao (also in Dutch) was published earlier in the Antilliaans Dagblad.
---
At the PC Hooft-prize presentation for Astrid Roemer

19-05-'16 Izaline is honoured to be invited to sing at the presentation of the 'PC Hooft prijs' to writer Astrid Roemer. More on pchooftprijs.nl.

A documentary of the Surinam-born writer is broadcasted on 19 May on Dutch TV (NPO2). More on npo.nl.
(Photo: Philip Claus)
---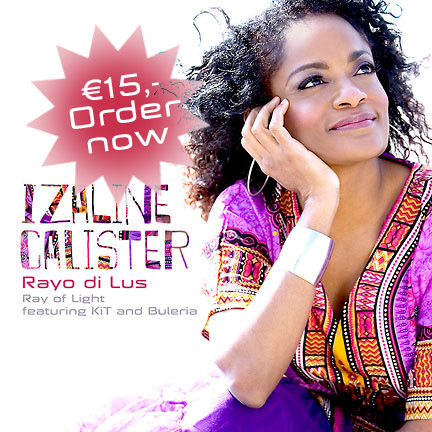 New cd - NOW available

29-04-'16 As of today (Friday 29 April) the new cd of Izaline, Rayo di Lus, is available through this site. For Dutch fans, that is. It comes in a jewelbox, including a 16-page booklet with the songlyrics in Papiamentu and a translation in English.

For €15,- we'll send it to an address in The Netherlands. Exclusively for this site Izaline signed the first 50 copies. Order here.

(NL) Nieuwe cd nu verkrijgbaar
Vanaf vandaag, vrijdag 29 april is de nieuwe cd 'Rayo di Lus' te bestellen. Bij de cd zit een tekstboekje van 16 pagina's met de songteksten in Papiaments en de Engelse vertaling.

Gesigneerde exemplaren
De cd kost €15,- inclusief verzending. Speciaal voor deze site signeerde Izaline de eerste 50 cd's. Bestellen
---
07-04-'16 The new cd of Izaline Calister is called Rayo Di Lus (Ray of Light). It features two surprising acts, the Curaçao/Dutch cooperation 'Kuenta I Tambú' (KiT) and the Aruban group 'Buleria'.

Izaline's eighth(!) contains ten new songs and a beautiful adaptation of the Dutch song 'Telkens Weer'. If not before, this cd settles her name as a singer/songwriter.

Cd-presentation-shows are scheduled for April and June, in Den Haag, Amsterdam and Rotterdam.

Check the schedule for dates and venues!

---
Please support

09-03-'16 The Liliane Fund in The Netherlands helps handicapped children in Third World countries to go to school. Help Izaline to support them in this year's campain 'Wij trekken aan de bel' ('Tocando la Kampana'), by downloading the song called 'Herrie Op Het Plein', performed by P!en featuring Festus. When downloading, you support this good cause.

Get it on iTunes!

---
•
MORE NEWS »