---
A Delightful Summernight

10-06-'15 On July 13, Izaline plays The Royal Concertgebouw in Amsterdam in the series Robeco Summernights.

With her band Izaline is known to set fire to every audience, building musical bridges between western jazz and Antillean groove. This night she sings mostly own repertoire, previously released on one of her 6 cd's.

Izaline Calister - vocals; Yumaria Grijt - vocals; Marc Bischoff - piano, vocals; Ed Verhoeff - guitars; Yerman Aponte - bass; Enrique Firpi - drums, percussion

13 July 2015, 20:00 - 22:15
Het Concertgebouw, Amsterdam I+R

---
'Dudok Meets Calister'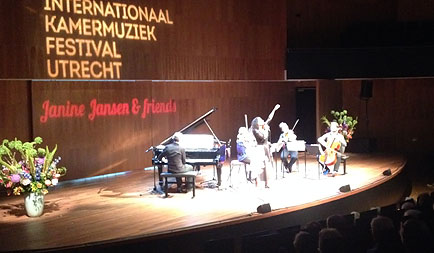 08-26-'15 June 25, Izaline sang accompanied by good friends of the Dudok string quartet at the classical music festival in Utrecht. Lineup was completed with Marc Bischoff on piano.

The program, called 'Dudok meets Calister' crosses the musical borders between southamerican rhythms and European chambermusic.

---
A Night at the Club

22-01-'15 These months, Izaline tours with 'New York Round Midnight', a concertseries with the music of the famous Broadway-nightclubs in the late fifties and early sixties.

A ten-piece band is accompanying her on this trip to the glorydays of swing and bebop. Sitting in in the band are Peter Beets (piano), Ben van den Dungen (tenor saxophone) and singer Paul van Kessel.

The pieces of Miles Davis, Dave Brubeck, Count Basie, Oscar Peterson, Art Blakey and others are introduced by jazz-reporter Koen Schouten.

The tour visits theaters and venues in The Netherlands. Check schedule.
---
Izaline on iTunes!

Three recent cd's of Izaline are now made available through iTunes. They are Speransa ('09), Kanta Héléle ('06) and Krioyo ('04). Check it out! ».



---
•
MORE NEWS »